CGNK at the 12th World Summit of Nobel Peace Laureates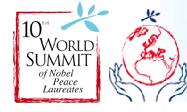 February 2012. The Center for Global Nonkilling has been invited to participate at the 12th World Summit of Nobel Peace Laureates that will be held on April 23-25, in Chicago, United States. This Summit's topic: "Speak Up, Speak Out for Freedom and Rights" is presented as an opportunity to confront the issue of empowering youth to nonviolent action, celebrating the transformative power of speech and individual activism.
Significantly, the 8th World Summit of Nobel Peace Laureates approved an historical "Charter for a World without Violence" that, in its 13th Principle, "call[s] upon all to work together towards a just, killing-free world in which everyone has the right not to be killed and responsibility not to kill others". The Charter ends with the following statement: "To address all forms of violence we encourage scientific research in the fields of human interaction and dialogue, and we invite participation from the academic, scientific and religious communities to aid us in the transition to nonviolent, and nonkilling societies." CGNK is also a Friend of the Nobel Peace Laureates Summits.